The Serpent King (Crown/Random House) (2016)
Dillard Early Jr., Travis Bohannon, and Lydia Blankenship are three friends who have one thing in common: none of them fit the mold in tiny Forrestville, Tennessee. Dill, a talented musician, grew up in a Pentecostal snakehandling church, playing in the praise band. During his freshman year, his father went to prison for a heinous crime, leaving Dill and his mother impoverished.
Travis is a gentle giant who works at his family's lumberyard and is obsessed with a Game of Thrones–like fantasy series, much to his abusive, alcoholic father's displeasure.
Lydia comes from a loving upper-middle-class family and runs a popular fashion blog that's part Tavi Gevinson, part Angela Chase, and part Dolly Parton. She's actively plotting her escape from rural Tennessee for bigger and better things, to capitalize on her Internet fame. This will mean leaving behind Dill—whose feelings for her run deep.
But that's not Dill's only problem. He has a cursed name. His grandfather, Dillard Early, became consumed with slaughtering snakes in grief and vengeance after one killed his daughter. He wore their skins pinned to his clothes during his descent into darkness. The whispering and staring locals called him "the Serpent King" before he committed suicide by poison. Dill's father, also named Dillard Early, was the pastor of Dill's church, whose parishioners handled serpents and drank poison as signs of faith.
Caught between his mother's pulling him to drop out of school to help pay off the family debts and Lydia's pushing him to go to college to escape Forrestville's whispers and stares, Dill is quickly approaching a reckoning. One that will force him to confront the legacy of darkness—serpents and poison and self-destruction—that is his inheritance.
[T]his sepia-toned portrait of small-town life serves as a moving testament to love, loyalty, faith, and reaching through the darkness to find light and hope. Zentner explores difficult themes head on—including the desire to escape the sins of the father and the fragility of happiness—while tempering them with the saving grace of enduring friendship.
–Publishers Weekly (starred)
A touching debut…Characters, incidents, dialogue, the poverty of the rural South, enduring friendship, a desperate clinging to strange faiths, fear of the unknown, and an awareness of the courage it takes to survive, let alone thrive, are among this fine novel's strengths. Zentner writes with grace and understanding–a new voice to savor.
–Kirkus Reviews (starred)
[T]his novel offers a heartbreaking yet ultimately hopeful portrait of three friends and the love/hate relationship they have with the insular community they grew up in.
–The Bulletin of the Center for Children's Books (starred)
Pens would run dry if readers were to underline extraordinary sentences–the kind that are so true, or funny, or beautiful that they clamp hearts…Zentner sings a song of deep pain and harsh reality, but also of fierce love and hope.
–Shelf Awareness (starred)
[A]n ambitious, sui generis genre mash-up…Zentner's great achievement — particularly impressive for a first novel — is to make us believe three such different people could be friends. He also manages to blend a dank, oppressive, Flannery O'Connor-esque sense of place with humor and optimism…I adored all three of these characters and the way they talked to and loved one another.
–The New York Times
[D]azzingly written…A tale to make you weep, and be glad, about big questions and small joys.
–The Sunday Times (London)
[A] richly textured tale…The universal highs, lows and power shifts in friendship are played out by three compelling characters.
–The Guardian
An intensely moving, enthralling debut.
–Metro UK
"[C]lear eyes, full hearts" Southern earnestness mingled with the eerie creepiness of Winter's Bone and a tragic turn of events in the final third of the book makes for a totally addictive read. This one's a real heart worm–it'll wiggle in deep. 
–The Globe and Mail
Thorough characterization and artful prose allow readers to intimately experience the highs and lows of these three friends. VERDICT: Recommended for fans of John Green and Rainbow Rowell.
–School Library Journal (Popular Pick)
A musician himself, Zentner transitions to prose easily in his debut, pulling in complex issues that range from struggles with faith to abuse to grief…A promising new voice in YA.
–Booklist
Zentner combines the melancholy of being 17 with the melancholy present in the best of Southern fiction and gives us a novel that will fill the infinite space that was left in your chest after you finished The Perks of Being a Wallflower.
–Book Riot
Move over, John Green; Zentner is coming for you.
–The New York Public Library
The Serpent King is a book you won't be able to resist or forget. The Southern boy in me savored every syllable and the reader in me fell in love with every page.
–John Corey Whaley, National Book Award Finalist and Printz Award winner
The Serpent King gripped me in its coils and kept me turning pages late into the night. A triumph of love and dignity.
–Stephanie Perkins, New York Times bestselling author 
An American Library Association William C. Morris Award winner
An International Literacy Association Young Adult Book Award winner
An ALAN Amelia Elizabeth Walden Award winner
A Westchester Fiction Award Winner
A New York Times Notable Children's Book
Longlisted for the Carnegie Medal (UK)
A Southern Book Prize finalist

An Indies Choice Award Finalist
A Publishers Weekly Flying Start
An AML YA Debut Award winner
A Whitney Debut YA Award winner
An International Literary Association Young Adults' Choices pick
A Best Book of the Year, Bank Street College of Education & Children's Book Committee, 2017 Edition
A Texas Library Association Top 10 TAYSHA pick
A Volunteer State Book Award Nominee
A Vermont Green Mountain Book Award Masterlist pick
An Oklahoma Sequoyah Masterlist pick
A Pennsylvania Keystone to Reading Book Award Masterlist pick
An Illinois Lincoln Award nominee
A Michigan Great Lakes Great Books Award nominee
A Goodreads Choice Award finalist for Debut Author 
Shortlisted for the Irish School Library Association's Great Reads Award
A YALSA Top Ten Book for Young Adults
A YALSA Reluctant Reader Quick Pick
A Cybil Award finalist
A Wilde Award finalist
A Nerdy Book Club Award winner
A Southern Living Best of 2016 pick
A Telegraph Best of 2016 Pick
A Publishers Weekly Best of 2016 Pick
A Kirkus Best of 2016 Pick
A Hudson Booksellers Best of 2016 Pick
A Barnes and Noble Best of 2016 Pick
An Amazon Best of 2016 Pick
A Buzzfeed Best of 2016 pick
A Mashable Best of 2016 pick
A Book Riot Best of 2016 Pick
A Bustle Best of 2016 Pick
A Paste Magazine Best of 2016 Pick
A Shelf Awareness Best of 2016 Pick
A Novel Novice Best of 2016 Pick
A Minnesota Public Radio Best of 2016 Pick
An Indies Introduce Pick
An Indie Next Top Ten Pick
An Amazon Best Book of the Month
A Southern Independent Booksellers Okra Pick
An OwlCrate Pick
Amazon's July YA Book Club Pick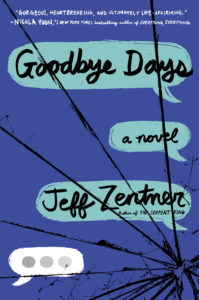 Goodbye Days (Crown/Random House) (2017)
One day Carver Briggs had it all—three best friends, a supportive family, and a reputation as a talented writer at his high school, Nashville Academy for the Arts.  
The next day he lost it all—when he sent a simple text to his friend Mars, right before he, Eli, and Blake were killed in a car crash.
Now, Carver can't stop blaming himself for the accident and he's not the only one. Eli's twin sister is trying to freeze him out of school with her death-ray stare.  Even worse, Mars's father, a powerful judge, pressures the district attorney to open a criminal investigation into Carver's actions.
Luckily, Carver has some unexpected allies:  Eli's girlfriend, the only person to stand by him at school; Dr. Mendez, his new therapist; and Blake's grandmother, who asks Carver to spend a Goodbye Day with her to share their memories and say a proper goodbye to his friend.
Soon the other families are asking for a Goodbye Day with Carver—but he's unsure of their motives.  Will they all be able to make peace with their losses, or will these Goodbye Days bring Carver one step closer to a complete breakdown or even worse, prison?
Written in his lyrical and clear-eyed style, Jeff Zentner's Goodbye Days is a gorgeous, heartbreaking, and ultimately life-affirming meditation on grief and forgiveness.
–Nicola Yoon, author of #1 New York Times bestseller The Sun is Also a Star
One of the most stunningly heartfelt, lump-in-your-throat novels I've ever had the pleasure of reading. Hold on to your heart: this book will wreck you, fix you, and most definitely change you.
–Becky Albertalli, author of Morris Award winner Simon vs. the Homo Sapiens Agenda
Tender, honest, moving, and lyrical. His characters live and breathe. Ahh, lucky me. Lucky us. Zentner is the real thing.
–Benjamin Alire Sáenz, winner of the PEN/Faulkner Award for Fiction and Printz Honor Winner
Racial tensions, spoiled reputations, and broken homes all play roles in an often raw meditation on grief and the futility of entertaining what-ifs when faced with awful, irreversible events.
–Publishers Weekly (starred)
Zentner does an excellent job in creating empathetic characters, especially his protagonist Carver, a budding writer whose first-person account of his plight is artful evidence of his talent…an absorbing effort with emotional and psychological integrity.
–Booklist (starred)
[A] gorgeous, devastating YA novel, Jeff Zentner (The Serpent King) explores the tormented inner life of a teenager in crisis…exquisite and tragic.
–Shelf Awareness (starred)
Zentner is yanking heartstrings here in this painful but compelling narrative…the kind of intelligent, intense, and life-affirming tale that will resonate with teens seeking depth and honesty…Hand this to readers looking to explore the somber and complex realities of life, especially responsibility, fractured relationships, and the butterfly effect of consequences.
–School Library Journal
[A] novel full of wisdom…[a] fine cautionary tale and journey toward wisdom, poignant and realistic.
–Kirkus
[M]asterful.
–Teen Vogue
Nominated for the Carnegie Medal
Longlisted for the UKLA Award
A Teen Choice Award nominee
A Whitney Award nominee
An Indie Next pick
A Goodreads Choice Award Semifinalist
An Epic Reads Shimmy Award Semifinalist
A Publishers Weekly Noteworthy Second Novel of 2017
A Paste Magazine Top 10 Most Anticipated YA Novel for 2017
A Barnes and Noble Most Anticipated Sophomore YA Novel for 2017
A PopCrush Most Anticipated YA Novel for March 2017